RT Sparkie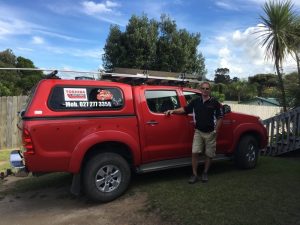 For fast and reliable electrical services in the greater Mangawhai area, RT Sparkie is your man to call. Better known as Charles Law, the qualified electrician has more than 45 years of experience in the electrical industry and offers a range of services for residential, commercial and industrial clients. Being a one-man company, RT Sparkie is known for his efficient work completed to the highest industry standards. He's trustworthy and reliable, provides excellent customer service and quality craftsmanship.
On top of undertaking general electrical work and fixing faulty appliances around the house, RT Sparkie has extensive knowledge and expertise when it comes to wiring new homes. Depending on your budget and personal preferences, he will install energy-efficient solutions such as LED lighting, solar power supplies, smart switches and automated systems based on internet or phone-app controls.
Home automation is one of RT Sparkie's specialities. In collaboration with his son Steve, a qualified automation electrician, the father-son-duo can add comfort to your home by installing smart solutions for security, lighting, entertainment or heating that you can control from anywhere simply with the touch of a button. RT Sparkie is also an approved agent for Toshiba and Carrier heat pumps and air conditioner units. As such he is able to supply and install premium quality models at very competitive prices.
In the commercial sector, RT Sparkie works with a wide range of businesses, carrying out all necessary testing and tagging to comply with current electrical rules and regulations such as those outlined by OSH or to obtain a Building Warrant of Fitness. RT Sparkie is also certified to undertake tests and equipment maintenance for various industries including IT equipment, portable and hand-held appliances for builders, on construction sites, in hospitality, medical, education and other institutions.
If you're looking for an electrician in Mangawhai, Wellsford, Kaiwaka, Waipu or the surrounding areas or would like to discuss your next electrical project, get in touch with RT Sparkie today and receive a free, no-obligation quote.