Rob Littlejohn Builder
Location: 1-318 Western Hills Drive, Whangarei, Northland
Phone: 09 430 0851  |  Fax: 09 430 0852  | Visit Website |  Send Email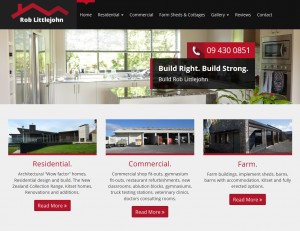 With over 35 years of building experience, director Robin  Littlejohn and his selectively picked team are dedicated to providing quality  and exceptional service that is tailored to meet individual needs.  "We thrive on the challenges and creativity that come with building high end architectural homes" Rob Littlejohn Builders enjoy working closely with you to achieve your vision and turn your dream home into reality.
Our attention to detail and quality workmanship has earned us our strong standing reputation to date. We guarantee to apply the same quality workmanship to all projects undertaken no matter what your building type or budget…. The same care and attention to detail that has seen Rob Littlejohn Builder win many awards. Right from the get go, through to final completion, Rob Littlejohn Builders are able to offer planning and construction services. The plans in our New Zealand Collection range are a great place to start, alternatively bring in your own plans or we can liaise with local architects to get your dream home onto paper and into fruition.
We rely on our outstanding team of craftsmen to meet and exceed our company's requirements for excellence, so why shouldn't you have that same quality in the construction of your new shed, barn or alternative accommodation. With kitset or complete construction options available for a wide range of farm and lifestyle buildings.