Phone: 09 436 0104 | Cell: 027 496 6799 | Visit Website | Send Email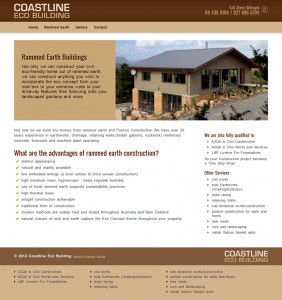 Coastline Eco Building build eco homes from rammed earth and Pumice Construction We have over 28 years experience in earthworks, drainage, retaining walls,(timber gabions, rockwork) reinforced concrete, formwork and machine plant operating. Not only we can construct your own eco-friendly home out of rammed earth, we can construct anything you wish to incorporate the eco concept from your mail box to your entrance walls to your driveway features then following onto your landscaped gardens and more.
Advantages of rammed earth construction?
distinct appearance
natural and readily available
low embodied energy (a level similar to brick veneer construction)
high moisture mass, hygroscopic – helps regulate humidity
use of local rammed earth supports sustainability practices
high thermal mass
airtight construction achievable
traditional form of construction
modern methods are widely tried and tested throughout Australia and New Zealand
natural colours of rock and earth capture the Eco Concept theme throughout your property
Other Services
civil works
bulk Earthworks (Grading/bulldozer)
drain laying
retaining Walls
sub divisional works/construction
pumice construction for walls and floors
new roads
rock wall landscaping
install Gabion Basket walls