Potter Electrical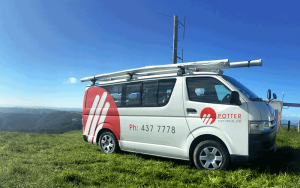 Whether you need to get an electrical pre-purchase inspection done on that dream house you're wanting to buy, or whether you're looking into modern, energy-saving industrial and commercial lighting solutions. At Potter Electrical no job is too big or too small. The team of more than 20 qualified and experienced master electricians provides reliable service to the highest standards in the Whangarei and Northland area and is committed to quality, work safety and customer satisfaction.
Established in 1996 by Craig Potter, the company has gained a reputation for keeping the needs of Kiwis in mind. People always come first, which is why all Potter employed electricians are dedicated to their job and their clients. They cater for residential properties just as much as large commercial and industrial corporations.
Communication is vital to the Potter Electrical team. You will know exactly what's happening and what to expect at every step along the process. Because they are always approachable and never shy to answer questions, they have been able to build trusting relationships with all their clients and receive many referrals through positive word-of-mouth testimonials.
After many years in the electrical industry, Potter Electrical is proud to offer the best services and products in town that provide solutions to your specific problem. They stock a range of products from well-known brands and companies to ensure you get quality that lasts.
Potter Electrical is the preferred contractor for the Whangarei District Council, and as a member of the Electrical Contractors Association of NZ carries the stamp of Master Electricians. Among the company's clients are nationwide businesses such as The Warehouse and Farmers who entrust Potter Electrical with the maintenance of all their electrical systems.
Call Potter Electrical today to receive a free, no-obligation quote for anything from repairing faulty wires to bigger jobs such as switching to energy-efficient solutions including heating and cooling systems, LED lighting and motion sensors or power monitoring and thermal imaging.